Date: November 18, 2017
No Comments
Category: School Championship
Another proud moment for Goenkans, Sawan Dhariwal of G.D. Goenka International School Rohtak won bronze medal in Haryana School State Swimming Championship held at "HL City" Bahadurgarh , Haryana. The championship was from 13th Nov to 14th Nov 2017. School management is proud to have such shining stars. School Chairman Mr. Karamveer Maina, Director Mr. Vikrant Maina, Principal Mrs. Asha Rana congratulated swimming coach & HOD Sports Mr. Anil Sharma for bringing out the talent. School management also showered blessings on "Sawan Dhariwal" for his achievement and congratulated his parents too.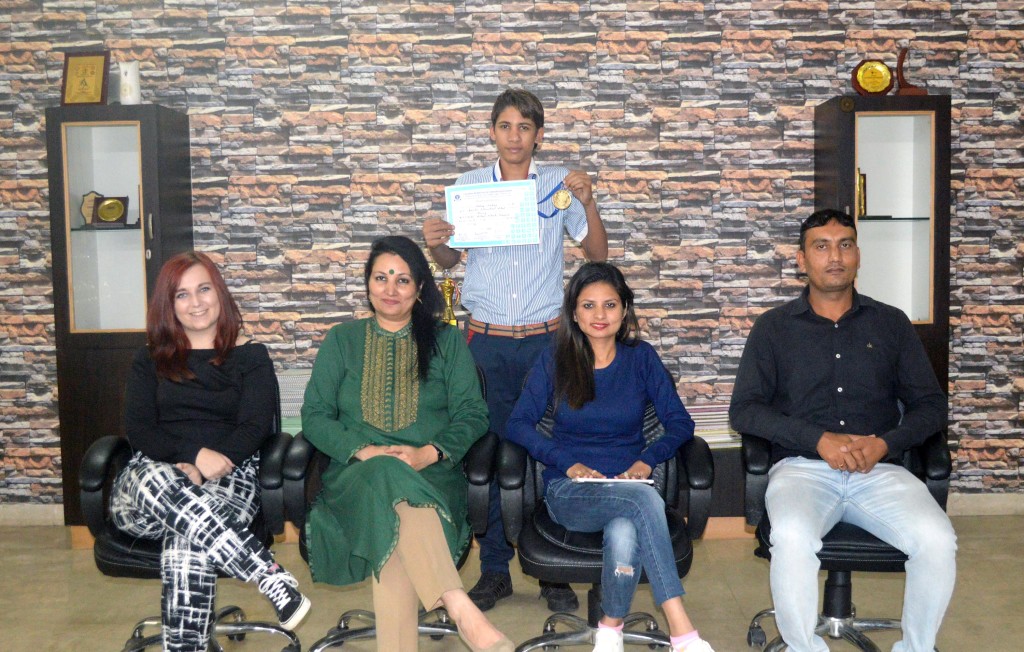 Continue reading
Date: November 18, 2017
No Comments
Category: School Championship
Its immense pleasure to have champs like "Akshay Dahiya" who participated in CBSE National Boxing Championship. He won the gold medal in the championship in under-17 (Boys ) which was held at B.K.N. public school, Kharkhara, Meham (Haryana). The championship took place from 11th Nov 2017 to 14th Nov 2017. We are proud to have such students. Akshay Dahiya also was the winner of Haryana School State games which is under the ages of SGFI held at Jhajjar, Haryana. School Chairman Mr. Karamveer Maina, Director Mr. Vikrant Maina, Principal Mrs. Asha Rana congratulated boxing coach Mr. Deepak Mor, HOD Sports Mr. Anil Sharma
Continue reading
Date: October 12, 2017
No Comments
Category: Sports
There was a District Swimming Championship (Khel Mahakumbh) organized by GD Goenka International School Rohtak. TEAM WON OVER ALL SWIMMING CHAMPIONSHIP OF KHEL MAHAKUMBH 2017. Our school swimming team won 25 medals in "Khel Mahakumbh" District swimming championship with 9 Gold, 8 Silver 7 Bronze medals. The championship was held on 27th to 29th Sep 2017 and boys and girls participated in Under-14, Under-17, and Open age group. GD Goenka's Director Sir Vikrant Maina, Principal Mam Smt. Asha Rana, Sports H.O.D sports and swimming coach Mr. Anil Sharma congratulated the swimming team for their wonderful performance. DETAILS OF WINNERS:
SR.NO
NAME
CLASS
MEDALS
1
Continue reading

Date: August 31, 2017
No Comments
Category: Sports

There was a District Swimming Championship (SGFI) organized by Delhi Public School Rohtak. Our school team won the overall championship trophy for the same. The championship was held on 17th Aug 2017 and boys and girls participated in Under-14, Under-17, and Under-19 age group. GD Goenka's Director Sir Vikrant Maina, Principal Mam Smt. Asha Rana, Sports H.O.D sports and swimming coach Mr. Anil Sharma congratulated the swimming team for their wonderful performance. Sawan Dhariwal declared the best swimmer of the tournament. He won 3 gold medals in boys group under-17. Winner Details:-

NAME
GOLD
SILVER
BRONZE
CATEGORY
Ankit Gajraj
2
1
-
Continue reading

Date: August 21, 2017
No Comments
Category: Sports

In World Taekwondo Championship, Jatin Dahiya of class 10th from GD Goenka International School Rohtak will represent India. This championship will be from 24 Aug to 27 Aug 2017 in Egypt. He won gold medal in 3rd National cadet championship (65kg) held at Agra. Based on this now he will represent India in Egypt. School chairman Mr. Karamveer Maina, Director Mr. Vikrant Maina, Principal Mrs. Asha Rana, Sports H.O.D Mr. Anil Sharma, Taekwondo coach Mr. Nitin Kumar and all staff members congratulate "Jatin Dahiya" and his parents for his success and bright future.

Continue reading