Date: December 20, 2017
No Comments
Category: Education
National level Robotronics competition (IRC Nationals) was held at Thyagaraj Stadium, New Delhi on 16th December, 2017 in which 16 students of GD GOENKA INTERNATIONAL SCHOOL ROHTAK from four different teams have qualified for INTERNATIONAL ROBOTRONICS COMPETITION, which will be held at DUBAI in June 2018. Giving Tough competitions to 100 teams of 52 different schools from 15 different states of INDIA, our Goenkan's have grabbed following positions: TEAM NAME: checkmates TEAM POSITION: 1st  (GOLD MEDAL) + Best Unique Robot Award-MIDDLE LEVEL Himalya Kaushik(VII B) Sharav Jain(VII A) Vishal Dahiya(VII A) Yuvraj Saharan(VII A) TEAM NAME: Built on Brains TEAM POSITION: 3rd  (BRONZE MEDAL)-MIDDLE LEVEL Abhijeet Hooda(IX A) Aryan
Continue reading
Date: September 5, 2017
No Comments
Category: Activities
Onam is an annual festival with origins in Kerala, heralding peace and prosperity. It falls in the Malayalam calendar month of CHINGAM. This festival commemorates King Mahabali, Vamana (Vishnu Avatar) related mythology of Hinduism. It is a major annual event for Malayalee people as a start of new year along with summer harvest and celebrated with POOKALAM (FLOWER ARRANGEMENT), VALLAM KALLI ( The annual Nehru Trophy Snake Boat Race) held in the backwaters of ALLAPUZHA, all dress up in traditional attire, women dance THIRUVATHIRA KALLI, and a very large variety of delicious cuisine is prepared etc. In our school, Grade 7th-B class
Continue reading
Date: July 27, 2017
No Comments
Category: Activities
Dear Parents, This is to notify parents of students studying French language from grade 5th to 8th. I have already given to students all details last week of "INTERNATIONAL FRENCH EXAM COMPETITION" for which entry first is at State Level and students who secure above 50% become eligible for entry at National Level. This is all India Competition. All participants shall get certificate, medals or trophies. The top three winners at National Level will be awarded as follows:- 1st Prize: - 10 Days free trip to France 2nd Prize: - 2 Term French course in alliance franchise 3rd Prize: - 1 Term French course in alliance franchise First
Continue reading
Date: July 20, 2017
No Comments
Category: Activities
On the Occasion of "World Population Day" G.D.Goenka International School, Rohtak has opted the way of art to bring awareness to students about excess of population and its effects by organizing Poster making and Cartoon making competition for from Class 6th to 11th.Budding artist swayed their brushes on the relevant topics like Poverty, Importance of Family Planning, Gender Inequality and Effects on Nature/Natural Resources by the excess of population. Students participated in two group ie. Junior Group from grade 6th -8th and Senior Group grade (9th to 11th). In both competitions 74 students participated and 12 of them achieved 1st,
Continue reading
Date: May 17, 2017
No Comments
Category: Activities
As it is an opening month of new session at GDGIS,Rohtak. Students of grade 9th –A got rewarded for the best performance in mathematics throughout the month, in the month of April-2017.GD Goenka, Rohtak is a place where the talent and intelligence of the students is not only get the respect but also get rewarded. Sweety and Arnav scored 100% in monthly class performance test where Hardik, Payal , Vaibhav Jain, Rahul Jindal scored 2nd and 3rd highest marks in the class.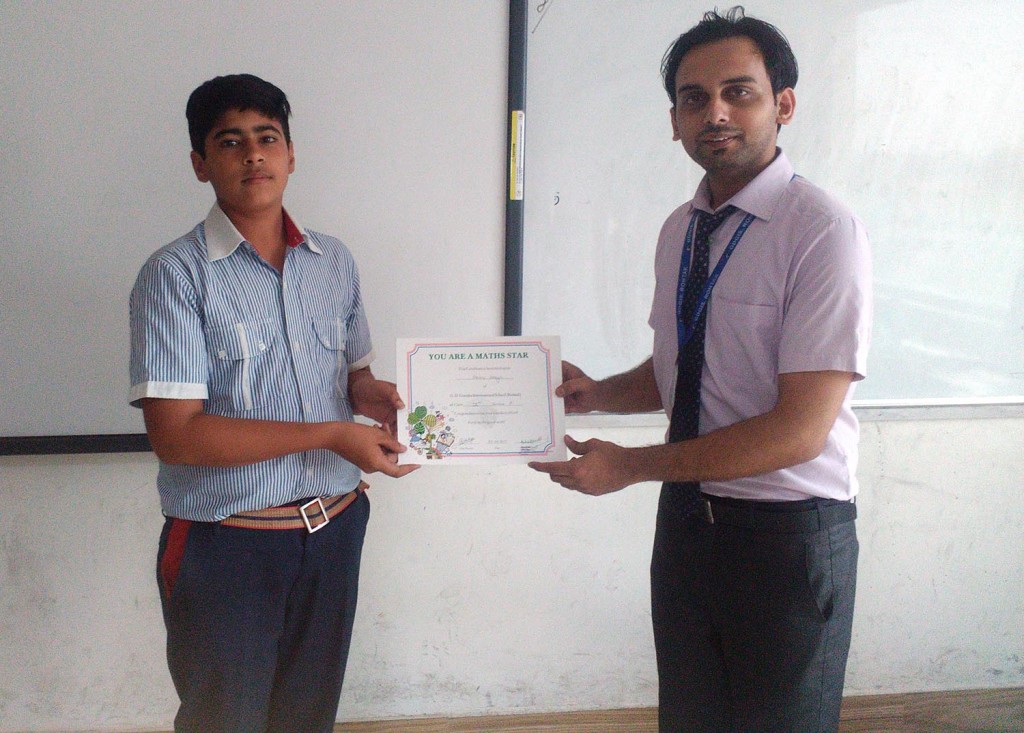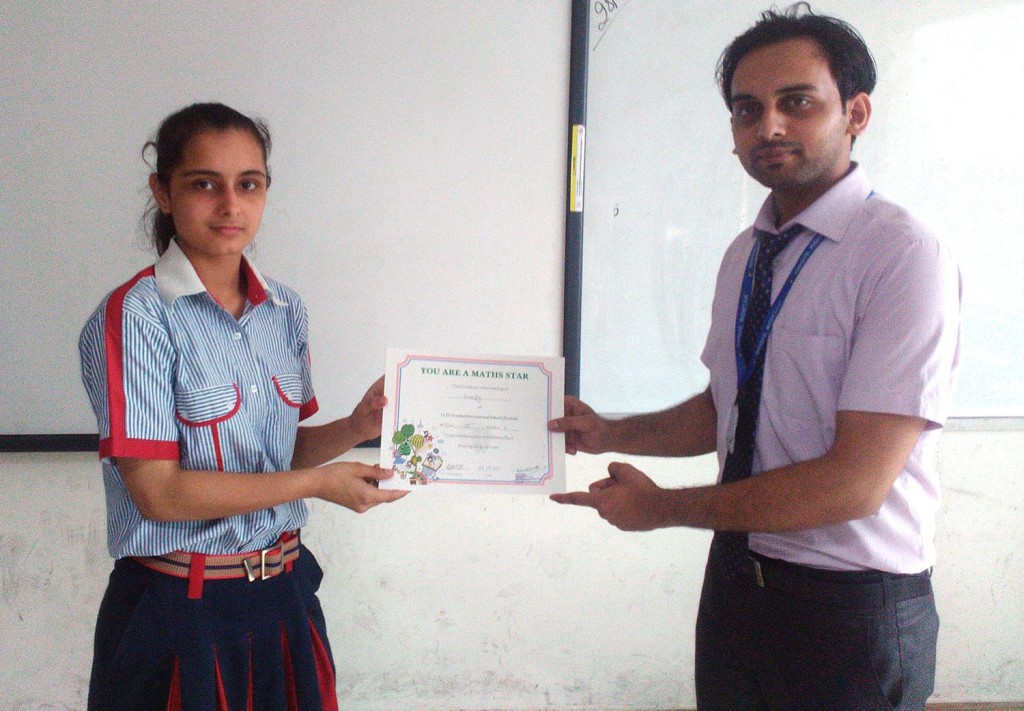 Continue reading